2
Balance Points – A #mathMovement activity.
This blog post is #1 in a series of many, many ways for you to incorporate movement into your math classroom. Look for many more posts throughout the year 2020. Keep updated on future blog posts by entering your email to the right ('get updates from sara') and/or by following the #mathMovement hashtag on twitter.
I met my good friend, Ali Rubin, 16 years ago when I changed schools for the first time. After 12 years of teaching HS, I wanted to switch to MS and ended up at this amazing K-8 school that was not my first choice, but was the just right place for me to grow as an educator. People had warned me that Ali, the only other MS math teacher at my new school, & I may bump heads as we were both type A, fast moving powerhouse, opinionated women. Turns out we became fast friends, both of us have learned a ton from the other about our practice and life.
Ali is the only duel licensed Secondary Math and Dance Teacher in the state of Minnesota. Half of each day Ali teaches math to 8th grade students and the other half of her day she teaches dance to MS students. When I first had a chance to see her teach, I noted how often her students moved in class. Almost always this movement was connected to the mathematics she was teaching and seamlessly woven into the flow of the class. Every student moved without complaint. Movement was a norm in her classroom. Not only were Ali's students moving, Ali's students were all talking about math. I had never – and rarely since – seen anything like it in my career.
As a teacher who had rarely prior incorporated movement into her classroom (a few days here and there with a little bit of graph dancing) I knew I needed to change this after seeing her move. My journey of adding movement to my own practice began. Fast Forward, I left the school I taught at with Ali to lead math for our district. I talked Ali into doing PD on movement at our state (MCTM – Minnesota) conference. I started hearing from teachers that attended that training that they were adding movement into their classrooms. My students were moving too. 2.5 years ago I went to Ali's classroom after school and filmed her with her students using movement activities hoping to find time to share/blog about the amazingness that is – Allison Rubin Forester – Today is is part 1 of many where I will share numerous #mathMovement activities with you. My goal is that you will make movement a non-negotiable daily ritual in your classroom.
BALANCE POINTS
I am starting with the #mathMovement activity 'Balance Points' – one I learned from Ali – because it is the one that most teachers who have attended trainings with us have immediately, and regularly implemented in their own practice. I'll start with a link to a youtube video of this where Ali Rubin is introducing the activity to her students. Check out the video and then read below about how I've implemented this activity in my own classroom and in the tranings I now do with adults. Enjoy!
Tips for using Balance Points in your classroom.
I introduce Balance Points to my students the first time the following way:
Me: "Class, tell me 8 things that are the same or different in the 2 images below." (note, even in HS I have used this image with children – feel free to switch it out for older students/adults if you need to, though this has worked great for me)
Students usually say "there are 2 people". I respond by saying, "Yes, today you will be working with a partner" They say a lot of other similarities like "They are outside" and I respond saying, "Unfortunately we are not going outside today." (though this activity could and probably should be done outside). They say all kinds of other things…but before long someone says, "They are connected" and I say, "Yes, you and your partner will be connected today. You can connect by holding hands or connect any other way and I model touching just one finger to a students shoulder or touching feet with a partner.
If It does not come up, I say, "These 2 images have the number 4 in common. Why do you think that is?" Students always come up with "Both pairs have 4 contact points with the ground" To which I say, "Yes, this is how you and your partner will show your numerical solution today – with a connected freeze and your answer will be the number of connection points you and your partner have with the ground.
I tell them the kids on the left are 'cute, but boring' and that the kids on the right are a bit more creative with their connections to the ground. Our goal is to be as creative with our movement as possible. I tell them to stay safe and use tools (chairs, tables) for stability if needed.
We then practice saying the numerical value of a couple other photos….
I tell students to all get up and find a partner (no groups of 3 – If I have an odd group of students either I pair up with the extra student or I make one group of 3) After students find their partner I say, "I am going to show a math problem to solve. No movement yet. Look at the problem silently for moment. Turn to your partner and solve the problem together. Plan your movement to show the solution." I then show a math problem, usually something that we are doing in class – (this activity is great for skill practice/review).
I say, "GO, show your answer" and watch as students giggle and move. In this problem the solution is 2, so as a teacher I am looking around the space for students to show me '2'. I find a group with the correct solution and tell the class to freeze and look up at the group I've selected. I often say something like "This group has the correct solution, 2. Give me evidence that this is the correct solution." We then have a short conversation as a class why the solution is correct.
I do allow students to use tools like calculators during this activity if they like and also in my classroom they can google something on their phones for help if they like. I also circulate during think time and help students struggling to solve the problem being projected. My goal is to select problems all students can be successful with.
After the first problem, I usually do one or two more for a total of 2-3 movements. The first time we do this, I try and keep solutions to integers of 2, 3, 4, 5 or 6.
I use this activity once every 2-3 weeks. Some students would love it if I used it all the time. It always produces giggles and joy. I keep the total time on this relatively short 3-7 minutes. I often partner up students randomly (using a google sheet to quickly randomize them), but I also let them select partners. You can use this movement activity with any type of problem that generates a positive integer solution. Here is an example I learned from a teacher in Council Bluffs, Iowa….
For purely my enjoyment, on the 3rd or 4th time we do this I project a problem to solve with an answer of '1' and watch with joy as they come up with a way to do this. (often one person stands on a chair).
The next time we do Balance Points, I throw in a problem with a solution of '0′ (zero) or '3.5' or '-2' or '24' to see how they interpret these solutions with their bodies. I love how creative students are with both their movements and explanations.
BALANCE POINTS IN ACTION
Minnesota Math Blogger, Greta Bergman, attended a math training with Alison and I several years ago and has blogged about Balance Points HERE. Check out the photos of her students.
On November 16th, I co-presented on the topic of #mathMovement with the Amazing Chris Luzniak at CMC South in California. (Note: Check out his blog for more ways to move with your students including 'Debate Math') We will both be presenting on this topic this spring in Chicago at NCSM and NCTM. Look for us there. I had the amazing chance to visit Chris's classroom in LA – The Archer School for Girls and try out Balance Points with his Pre-Calculus students. His students showed which quadrant different radians were located in using a partner. Check out his students.
The amazing Fawn Nguyen attended Chris and I's session at CMC South. The next Monday she had already created a ton of math problems to use with this activity and implemented it with a teacher/students she was working with.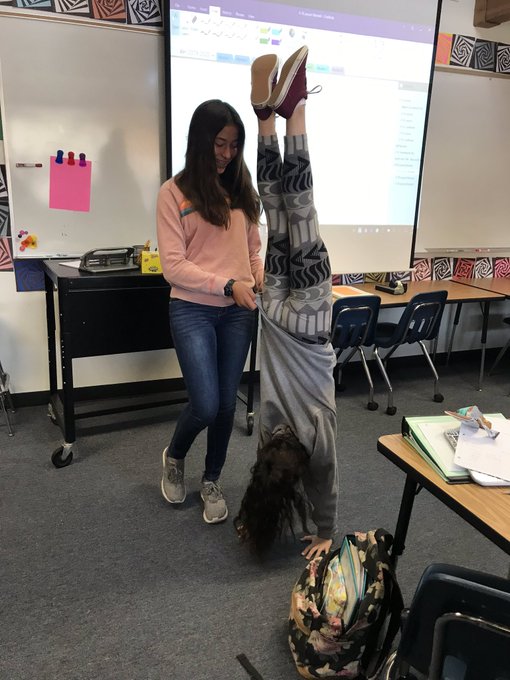 It was amazing to have tons of teachers tweet their photos of their students moving in math classes using the 'Balance Point' #mathMovement activity. Check out a few more photos. Amazing. (Thanks to Stephanie Lewis and LaDonna Guzman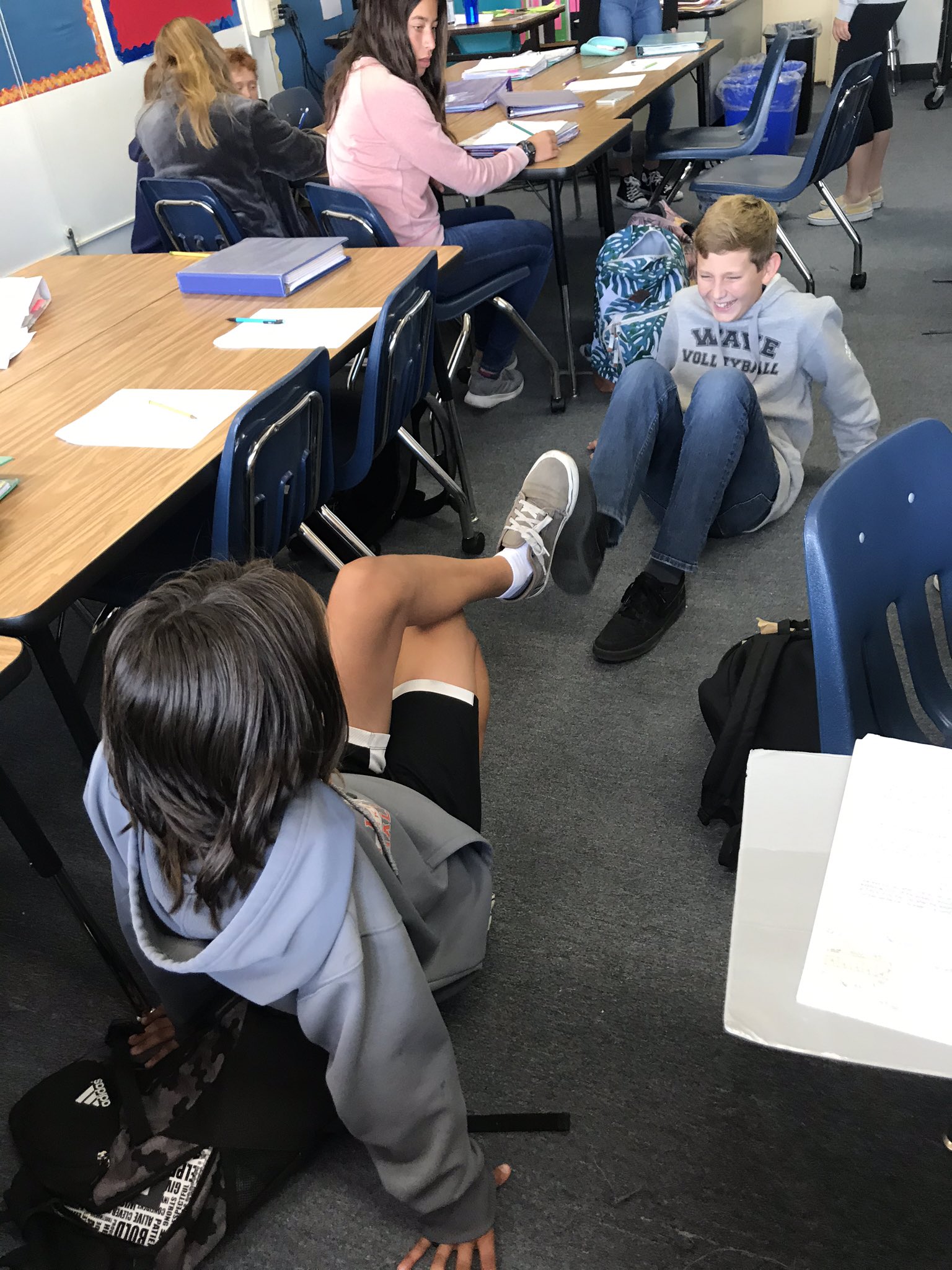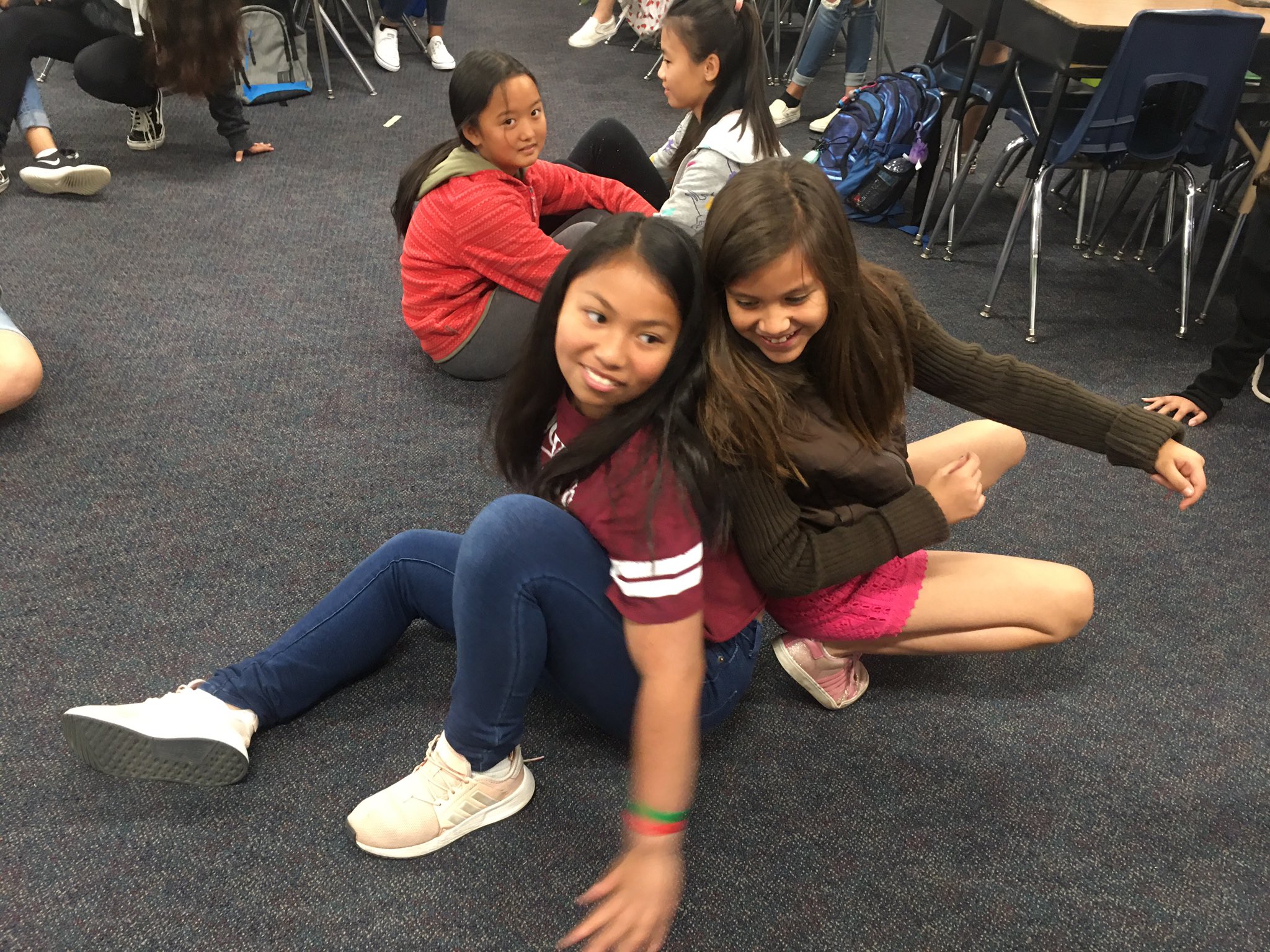 download resources
If you would like editable resources to print out and share with others about #mathMovement Activity 'Balance Points' – including an excerpt from Ali Rubin's book 'Get 'Em Moving' and editable powerpoint and google slides – Click Below.
I'd love to hear from you if you use Balance Points. Comment below. Comment -post pictures on Twitter. Tag Ali and I at @saravdwerf @alirubinf & with hashtags #balancepoints #mathMovement. Let us know how it goes.
UPDATE December 5: Check out these adorable drawings of Balance Points by Playful Math! Love them. Never would have thought to combine the great Bob Ross, Rosie the Riverter and Balance Points. I'd be interested how many students know who either of these 2 are. Even if they don't, I'd still use them. Love.