4
Nerding out on resources for Valentine's Day.
A long, long time ago (around nearly 20 years ago), a Minneapolis math teacher sent an email to another Minneapolis math teacher and signed it "from your sweetie-3.14159…"  An hour later she received an email from the other math teacher signed "from your bab-2.71828…"  20 years later than are married with 3 kids and still teaching math in Minneapolis.  That's what I call nerdy math love.  This story is not about me but it is about 2 math teachers I've taught with separately in my career.  Last year I sent this story to the 200 math teachers in my district along with tons of resources to nerd out on valentines day with our students.   This year I thought I would share them with you – sorted out in several random categories.  Enjoy.
UPDATE (2.12.17):  I created a valentine postcard for all my students on Tuesday.  If you want to create one similar to mine, all you need is 1 sheet of card-stock, 8 pixie sticks and 8 adhesive dots, & a colored pencil to create 4 nerdy valentines for your students.  Here is the Word Doc if you want to edit and make your own: valentine-card  We love it because the front is a bit angsty and the back is a bit sappy.  Enjoy.
Update 2.13.17: My former student teacher who now lives in the middle of Superior National Forest near the Canadian border could not find pixie sticks and adhesive dots to make her cards – but made equally lovely ones with smarties and a hot glue gun.  Check them out.
DESMOS
Desmos is where it is at for Valentine's Day.  Enjoy using the
Math-o-Gram
site to send a Desmos Valentine via facebook, twitter, email or to post a link anywhere.  Share the site with your students so they can send 2.14 desmos grams to one another.  You have 5 options to select from.
Many people have created equations that make hearts.  Again, DESMOS is where to use them.  If you've taken 3 minutes to sign up for a FREE desmos account you can log in and just hit 'save' for each of thee links and then you can find them always in the future by clicking on the 3 horizontal parallel lines in the upper left corner.  Here are just a couple I have saved. 
Sierpenski Triangle in Hearts
1 red heart
Flower to Heart
Click on link and then click 'save' once you get to desmos.
Also, check out this amazing new video from @DesmosDude and his youtube channel (bonus – @DesmosDude is from MN!  we do great stuff in this state)   It's a Desmos love story set to 80's themed music.  Love.  
This is a must watch!
CRAFTS
Check this card out – if you got a bit of time you could make  a Pop-Up Sierpinski Valentine Card. Amazing.
Check out this youtube video on how to make a Two-Mobius-Hearts.  Who doesn't want to do arts and crafts in math class.
UPDATE 2/7/20 Thanks to Mrs. Gallagher for connecting me another video on Heart Mobius Strips.  Check it out.
SECRET LOVE
Last year I shared told my students that if they had someone they were secretly in love with they could tell them secretly using one of these 2 math equations.
The first equation requires you to see only half of the story.  Check out other versions of this equation below.

The 2nd equation, I tell my students, tells you if your true love is good enough for you.  If they can't solve it then they will never know the truth.  See below.
SAD LOVE
For some of us Valentines Day is lonely.  For those students I shared this sad math story with them.
or in GIF form….
MATH
Here are just a few fun things I found connecting mathematics to Valentine's day or Love or Hearts or Cupids or….  Enjoy.
First a Which One Doesn't Belong with HEARTs from the amazing (and Minnesota's own) Christopher Danielson.  (Seriously, have you bought his book yet?  No, click here and do it NOW – so good)
If you are teaching 'ratios', this video entitled 'Bad Date' is perfect this week.
If you are teaching (or have taught) 'geometric mean', this video will teach you how it is used in identifying good matches for your valentine. (video is called 'inside OK Cupid')
Brian Marks, over at Yummy Math, posted a bunch of resources related to Valentines last year.  Check out his resources HERE.
Check out this Valentine Brain Teaser at NCTM's site.
CARDS
If you are wanting to send a math valentine to your loved one, your mom or your child – here are a few pictures for inspiration.
This slideshow requires JavaScript.
Check out this post from Jennifer Cook who had her students make math valentine cards. She got the idea from Matt Vaudrey's post HERE.
RANDOM NERDY STUFF
Another youtube video Valentine for Math Nerds
Or try these 15 math pick-up lines out on someone….
Or throw this GIF in your slides:
After writing this post, I search twitter before hitting 'publish' and found this… Last year the amazing Annie Forest posted some resources.  Some of which overlap with mine.  Check it out HERE (and if you are not following her on twitter, do it now, go, run, click follow)
UPDATE February 2020:  Here are a few other things to add as of 2020.
How many different ways can you create a #valentines ❤️using pattern blocks? What fraction of the heart is each color? #fractions #k5mtr #iteachmath #MTBoS pic.twitter.com/z2UtB9XePz

— K-5 Math Teaching Resources (@k5mtr) February 7, 2020
From YouCubed comes an activity with lots of great geometric questions for the following image.  Thanks to Tami Eldridge for finding this activity for me.
UPDATE 2/14/20 Cassandra Valenti shared a link to a great downloadable pdf you can print and have so many nerdy valentines!  Check it out HERE (no need to get her your email) and here is the twitter thread from her.
Went on the internet, found as many math Valentine's as I could and made my own set to use. I will give these to students so they can give to others! Spreading the math love! Send me your e-mail if you want the pdf! #teach180 #iteachmath #ITeachMath pic.twitter.com/oLw1koZBWP

— Cassandra Valenti (@MathWithMrsV) February 13, 2020
Don't worry, I made my own children #math valentines too #mtbos pic.twitter.com/yL25j3wgWS

— Mrs. Gallagher (@mathynerd) February 15, 2020
UPDATE FEBRUARY 2021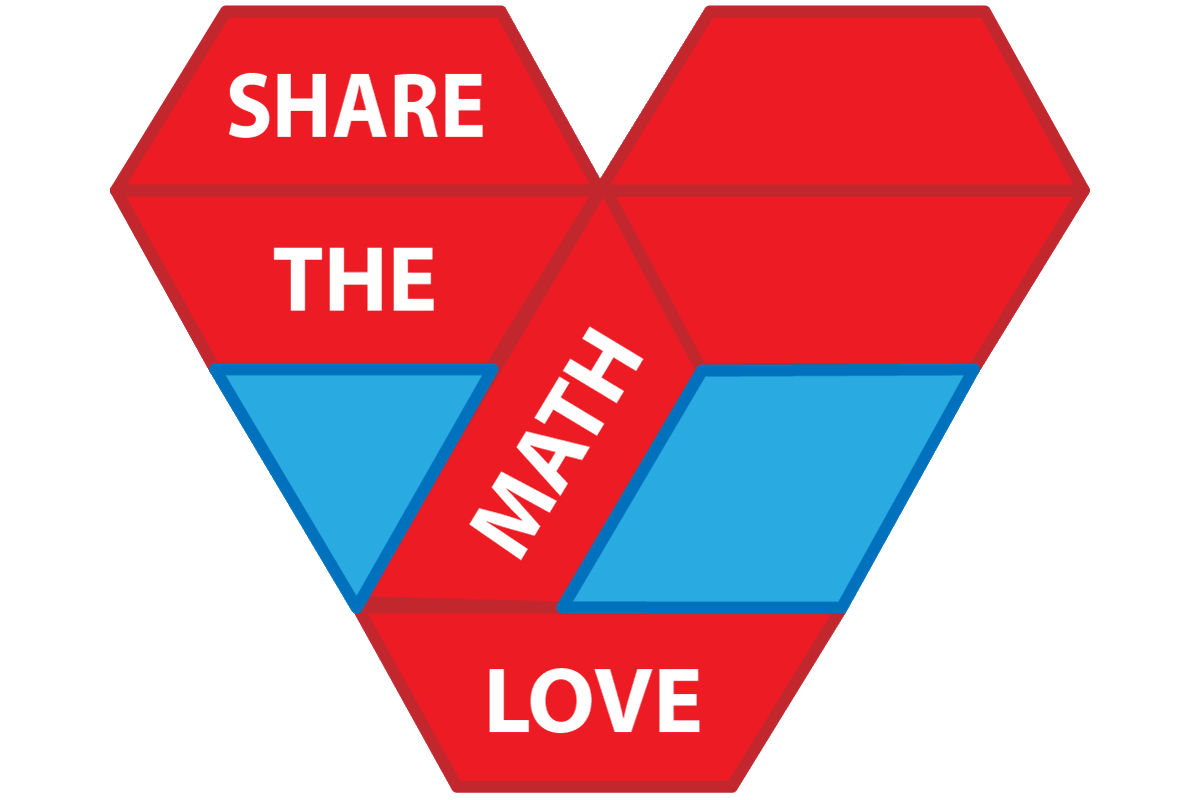 Here are a few more resources I've found this year…
First is a resourcse from The Math Learning Center (love all their resources)…they updated one of their online Pattern Shape APPs with a HEART shape.  Check it out HERE.
Cassandra Valenti (her last name is even Valentine's Day almost) shared on twitter her mathy valentines that she re-wrote and you can download….so cool…check these out.
These math-y valentines were a big hit last year, so sharing again! I scoured the internet and re-wrote them. Share and spread the math love! One year a student got a date with one! 😍 #mathvalentines #teach180 #iteachmath #mathisfun https://t.co/FdIGc00O4D

— Cassandra Valenti (@MathWithMrsV) February 2, 2021
Mash-up Math also shared a bunch of Valentine Day activities.
New! Valentine's Day Math Activities for Grades K-8: https://t.co/PlSEgBZm9v #edchat #elemmathchat pic.twitter.com/zotjLy4hpj

— Mashup Math (@mashupmath) February 2, 2021
Check out what Steve Phelps is doing with 'Create a Valentine Challenge' on Desmos
Hey #MTBoS! The K-5 kids in the schools I am working in are loving the @Desmos things I create for them. They requested something for Valentine's Day, so I make a something in the spirit of the Snowflake Maker!

Give this a try! Feedback welcome! https://t.co/eSQK9ct6RP pic.twitter.com/PViYSRSsJX

— Steve Phelps (@MathTechCoach) January 24, 2021
Here is the teacher version of Steve Phelp's Desmos Activity Builder – Love it….Go build some hearts with your students this V-day.
UPDATE FEBRUARY 2022
Are you following @howie_hua on TikTok yet?  He my favorite math voice on the app right now….  Check out Howie making his (famous) oragami out of a dollar bill.  So great.  Check it out HERE:  https://vm.tiktok.com/TTPdkgrnNB/
Check out Karen Campe's 2022 blog post on Candy Math related to Exponential Decay in Algebra.  Check it out HERE.
Do you have a math valentine/love resource to share? Send it my way and I will add it to my list.  Twitter @saravdwerf or email saravdw@gmail.com or post below.