9
The 100 Number Task – during a Pandemic (Is it possible?)
The Number One most viewed post (by a factor or 8 or 10) at my website is the 100 NUMBER TASK – for building group work norms. It has become a favorite first week of school activity for many of you. If you've never read this post – STOP READING. Please read the 100 Number Task post first before reading the rest of this post.
The 100 Number Task WAS a favorite week 1 activity….but then the pandemic hit.
Our world was turned upside down. Would our favorite math classroom routines, tasks and norms still work during the era of 'Distance Learning'?
No one has a playbook for our new norm and how it will work. What I do know for sure is this…
If I was passionate about something before March 2020, I am still passionate it now.
If I think hard enough, and collaborate with other educators – I can figure out how to do anything in a digital setting.
I believe anything that I could do during in-person learning, can be replicated (maybe it will look and feel a bit different) in distance learning. Really – I believe this….and I'm willing to put my energy into figuring this out for the things I am the most passionate about. The 100 Numbers Task – is just one of these things.
Why do I do the 100# task?
Let's start at the beginning. Why am I passionate about using the 100 Number Task? If you don't know why you use this task – how can we re-imagine it in a different setting. Creating a digital version of this task starts with us knowing WHAT we are re-imagining. So take a moment – before reading further – and brainstorm…
WHAT you love about the 100 Number Task?
WHY do you use the 100 Number Task with your students?
Here is my list…
It's fun. Week 1 of school I want to do something that is engaging.
It's easy. It has a low floor and invites all students to the table. It's easy to implement and easy for students to figure out.
Student's Enjoy it.
Students TALK to one another.
Students LISTEN to one another.
Students work together. Students Collaborate.
This task has a PATTERN – it reinforces the definition I share with students week 1 about what math is.
Students work with their teammates to improve their work (beat their previous score) – Models self/team improvement.
It creates powerful, positive feelings for math work. Students love this task and often ask to do it again the next day, week or month.
With very little direction from me, students start working with their teammates (group members). They heads and bodies are all in on this task.
It sets up a discussion on what great group work looks like. Students will tell me what group work looks like rather than me.
I love the part where I take photos of each group. They don't even notice and this sets up a great conversation about groups focusing. I reference these photos all school year (hang them on my classroom wall).
So the next challenge is…Can we accomplish all of this in a distance learning setting. My answer, after trying this with teachers and talking to teachers who have used this with students is YES – to most of the items above. The only item that will still be a bit tough is #11 – the photos I love to take.
So, what are my recommendations to you? Read on…
Enter Morgan Stipe. JAMBOARD + BREAKOUT ROOMS
In early July I was communicating with my friend Morgan Stipe. Morgan is a Middle School math teacher from my neighboring state of Iowa. This summer she started working as a Teacher Leader/Coach for Open Up Resources. (OUR). I noticed Mogan referencing the 100 number task via twitter and I messaged her about it. She and I were on the same page. We both thought perhaps the 100 number task might work virtually using ZOOM breakout rooms & JamBoard – a google version of a collaborative white board.
So…..Morgan and I invited Math Teacher Leaders to join us for a practice session in July via ZOOM. Lots of things went well and other things not so well. At the end of our session though I was convinced that many of the aspects I loved about the 100 number task while in-person – would work virtually using JamBoard.
Thank you to Morgan Stipe and all the other teachers that added their thoughts to using the 100 Number Task virtually.
Note: There are other platforms to do what we did using JamBoard and ZOOM breakout rooms. Several teachers have used Google Slides instead of JamBoard. I've included resources on this below. Many have said to me…"My district uses Google Meets, not ZOOM." (or Microsoft Teams) "Google Meets does not have breakout rooms!" If you do not have a way to meet synchronously using ZOOM, you can still create the idea of breakout rooms by setting up multiple Meetings. Google Meets has a Chrome Extension you can download to do Breakout rooms. Google Meets will also be coming out with breakout rooms soon. (I've heard October)
100# task – Using JAMBOARD & Breakout Rooms.
The 100 Number Task can be just as FUN & USEFUL to starting discussion and group work norms if you use Jam-Board & ZOOM Breakout Rooms. This task will still be fun. It will still be engaging. It can still set up a great discussion about group norms. The only thing lost (although this was a favorite of mine) is the ability to take pictures while students work without them noticing.
What is Jamboard?
Jamboard is G Suite's digital whiteboard that offers a rich collaborative experience for teams and classrooms. Jamboard currently limits the number of people who can sign-on to anyone document to 50 people. Since most classes are 35 students or less, this is not an issue. You will need to make a separate Jamboard (make a copy like any other google doc) for each of your classes. ProTip – I've learned to make a document I call 'Original' and make copies for my class from this. Currently, Jamboard only allows for 20 pages to be made. This means the pages must be used collaboratively in a classroom – with at least 2 students per page. In this activity, I have 4 students per page. Lastly, you may experience a short (1 minute) time when everyone signs on at once where a few students are told they don't have access – just tell them to be patient and sign on again.
To engage students in the 100 Number task, I highly encourage you to teach them how to use JamBoard and its tools using some other fun (non-mathy) task. I would not have student's first experience with JamBoard be during the 100-Number TAsk. I like to have a JamBoard Practice Session first.
The JamBoard Practice Session
You can introduce JamBoard to your students using any fun task you want. I might introduce it by showing my students the important tools and telling them…
I am going to send you to a ZOOM Breakout Room with 3 of your classmates (4 students total).
When you get to your Breakout room, you may want to split your screen so you can see your classmates (Ideally Camera's are on, even if it is just part of your head). Show students how to have 2 screens open on their computer at the same time.
The link for the JamBoard you will be using is in the Chat Box on ZOOM.
When you open JamBoard. Make sure the page you are in on JamBoard matches your Breakout Room Number. (see purple arrows below)
Tell Students about the Pen Tool…Tell them to each select a different color and write their name below the post-it note (or 'stickies' if you are not from MN).
Tell students that all 4 of them can write at the same time.
Tell students to then draw a picture of anything they want with their pen tool using the number below their post-it note.
Tell students to tell (talk out loud – have them practice un-muting themselves in the chat room) why they drew the picture they did.
Send students to the chat room to practice using the tools for around 5 minutes. While students are in Breakout Rooms – you can see what they are doing by scrolling through the pages on Jamboard. Its's amazing to see all your students collaborating in real time. I also like to go into a few breakout rooms and listen in.
When your students return from the practice round (bring them back from the breakout rooms) you can call on a few students to talk about their pictures as you display the JamBoard Screen for the entire class to see. Ask your students if they explored any of the other tools in JamBoard. Students will talk about using the eraser tool, they will say if you want to type, you pull up a post-it note and type. Some students will even realize they can upload pictures to Jamboard.
Talk about how important it is to talk to one another as you draw in the breakout room. If necessary (I do this lots) – give your students sentence stems (frames) to support their discourse in the breakout rooms.
Morgan Stipe made my original practice board look better. You can download her version using the BLACK BUTTON at then end of this post.
Using Jamboard with the 100 Number Task!
Either on the same day as your practice session or a day or two later, Have your students do the 100 Number Task in JamBoard and ZOOM Breakout rooms.
I like to start things out with this GIF and say…"Good news students, to do today's task, you only need the ability to count. Let's all practice counting together…'One, two, three, four, five, six…'"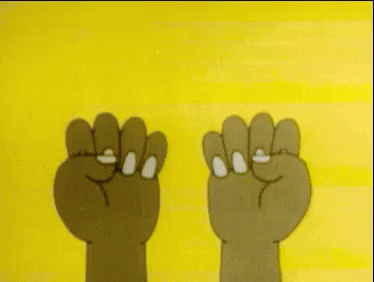 Before sending students to breakout rooms – remind them that their breakout room number should match their jamboad page. (see purple below). Remind Students to use the Pen Tool (each student a differnt color) and write their name before anything else. Tell students that each student must take turns finding the numbers one to 100. Only one student can circle a number each time. They MAY choose to use the spotlight tool to help their group members find the next number. Tell them they will have 3 minutes (you, the teacher, will close breakout rooms after 3 minutes forcing them back into the main room).
When students return to the main room. Tell them you are going to send them back to the Break-out rooms for 3 minutes to talk about Round 1. Tell them to each open a post-it note and write something their group did well or something they noticed helped them find numbers.
Bring students back together in the main ZOOM room. Have a class discussion about what they noticed. Note to Teacher: If you have students write what they noticed on post-it notes – you can have a discussion you can select students to talk (since you can see everything by scrolling the Jamboard pages) when they are back in the main room.
Have students do Round 2 of the 100 # Task using what they learned in a fresh new JamBoard Page. See if students can get further than round 1. (TIP, if you have not read my original post – go read it now – there is a pattern to the 100 number task)
Bring students back to the main room and have them talk about what good group work looks like. Ideally, your class list may look something like this…
Use this list to inform how you as a teacher will enact the 100 Number Task using JamBoard and ZOOM Break-out Rooms. What teacher moves can you do so students say the things above and not you, the teacher?
100# task – Sara's Tips
In the past I've used the 100 Number Task Week 1. Many teachers have told me this is their favorite first day of school activity. During Distance Learning, my gut says to wait until week 2 or 3 to use this task. Use Week 1 to set norms around using technology, meeting together online and building a community within your classroom.
If you are doing In-Person Teaching or Hybrid Teaching this fall – we still need to keep our students 6 feet apart. Honestly, I feel like In-Person learning is still distance learning. I highly recommend using JamBoard on Devices IN-PERSON this fall too. Students do not need to get close to have a conversation together. Another teacher suggested taping the 100 Number Board to the wall and students do this while standing and only one student can approach the board at a time.
I don't tell my students to use different color markers Round 1. If they do – so be it. If they don't – that is cool too. The pattern is more difficult to see if students use the same color marker. Consider having everyone start with the same color marker.
There are tons of ways you can mix up this task. You can have students start at 100 and count backward. In my original post I have lots of versions others have created for this task to make it more difficult or at least different.
100# task – Morgan Stipe's Tips
Morgan has used the 100 Number Task using JamBoard and Breakout rooms several times. Here is what she said… "100 Numbers was a hit this week with the JamBoard activities. As a team, we thought if you have a group of 3, it worked to have the group act as person 4 and find the numbers for the missing teammate. If you had groups of 5, one teammate could use the laser and help find numbers!"
100# task – Shawna Viet's Tips
Shawna Viet has used this with other adults. Check out HER version on JamBoard.
From Shawna…
"I set up multiple boards and used different colored post-its to help teams find their second board easily. I demoed the Jamboard using the marker instead of the pen, so the pattern would "pop". They were instructed to add their names to the post-it in order so we could debrief."
Shawna Shared a Video of her using this task with her teachers. I love what she said about the adult use of this task in JamBoard…"some numbers having two colors because one of the guys admitted that he was "helping" others and not following the rules."
100# task – Facilitation Guide
Gina Anderson attended the test session Morgan & I did. She created a facilitation guide for her teachers explaining the process.
You can find Gina's Facilitation Guide and all the other resources by clicking the BLACK BUTTON at the end of this post.
100# task – Using GOOGLE SLIDES
Megan Heine and others have used Google Slides & Breakout rooms successfully doing the 100# task. Check out Megan Heine's Twitter thread on this.
I've included Megan's version of the 100 number Task on Google Slides and others shared with me that you can get by hitting the black button below.
Tip from Sonja Twedt on Twitter – HERE is Alice Keeler's Post on how to push out slides to each of your students/groups.
….But I don't have ZOOM & Breakout Rooms
Although I addressed this above – I am getting this question a lot online. "Sara, I use Google Meets and they don't have Breakout Rooms." The answer is Google Meets does not officially have Breakout Rooms YET. They are coming. Until then, search 'google meets breakout room extension' and download it and use it…..OR… take Kendra Newman's advice to someone who asked. (note – this would work with Microsoft Teams as well)
100# task – Using PEAR DECK
After posting this blog, Debbie Hurtado commented on Twitter about using the 100 Number Task with Pear Deck. I asked her to talk about how….(more coming soon)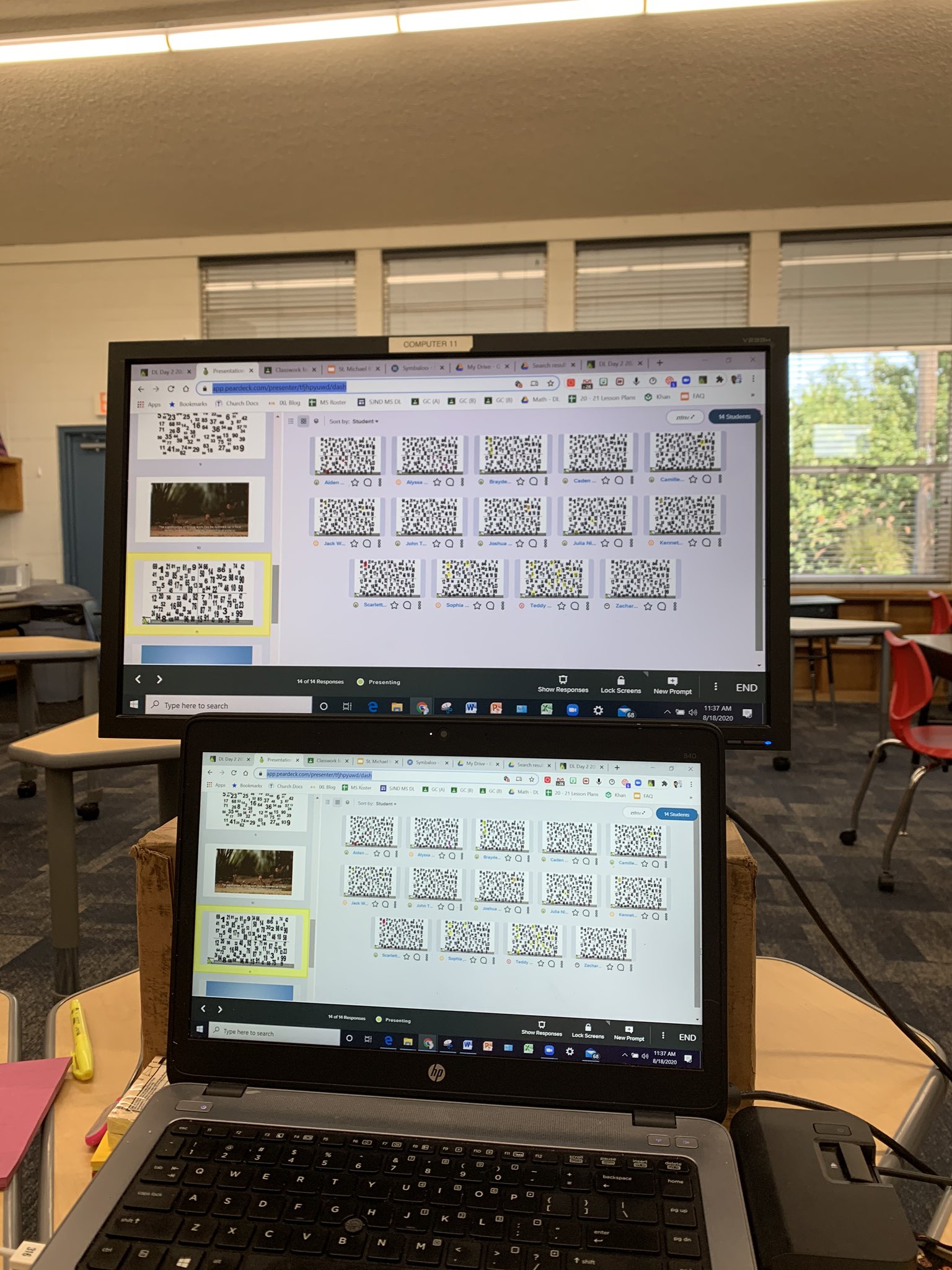 Here is the twitter thread where she explains using Pear Deck
DOWNLOAD RESOURCES
If you would like to get copies of the JamBoards used, Google Slides and a Powerpoint ….Click the BLACK BUTTON below and you will be connected with a Google Folder of Resources.
NOTE – To make the items in the folder your own, simply 'MAKE A COPY'. All documents are set to 'view only', but you can edit them if you 'MAKE A COPY'. Best.
One last reminder! Go back and (re)read my original 100 Number Task Post. This post has lots of different versions of the Task you can adapt for a Distance Learning setting. Enjoy.
1 more thing – I'd love to hear from you.
If you try the 100 Number Task with students in a distance learning setting – I'd love to hear from you. What worked? What did not? Comment Below or Tweet me @saravdwerf or find me on Instagram @saravanderwerf or LIKE my Facebook Page @saravanderwerf I'd love to update this post with ideas from all of you.